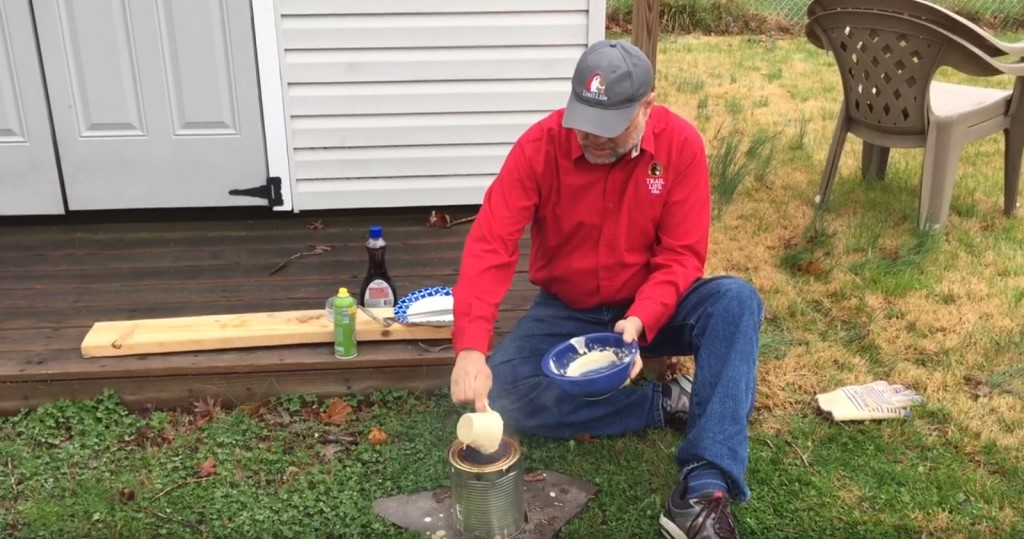 For the perfect classic s'more you have to have melty chocolate, gooey toasty marshmallow and crisp graham cracker. There are a million ways to personalize a s'more using flavored chocolates, adding nuts or dried fruits or jams. Explore. Enjoy.
Level: Easy
Prep Time: 5 Minutes
Cook Time: 10 Minutes
Yields: 8 Servings
8 sheets honey graham crackers
One 4.4-ounce bar milk chocolate, such as Hershey's, broken into 8 pieces
Pinch kosher salt
8 large marshmallows
Heat a grill to medium-low heat. (The heat coming from a dying charcoal grill or a gas grill cooling down will also work well.)
Halve each graham cracker sheet crosswise into 2 squares. Working with 1 or 2 s'mores at a time, place a square of graham cracker on a piece of foil and top with a portion of chocolate and a pinch of kosher salt. Place on the edge of the grill just until the chocolate is warmed and softened, about 30 seconds.
Take the graham cracker squares and chocolate to your grill (as the marshmallows toast they will become soft and start to droop off the skewer). Working with a few at a time, skewer a marshmallow on a long fork or metal skewer and hold over the heat about 2 inches above the grates. Toast, turning occasionally, until the marshmallow puffs and turns golden brown, 1 to 2 minutes.
Using the square of graham with the chocolate and a plain graham square, place the marshallow on the chocolate and, using the plain graham, squish the marshmallow down and pull off the skewer. Eat while it is warm and gooey and perfect.
These are great for a camp fire during a trip to the outdoors. If you don't have a fire, use the oven or barbeque. Serve with hot chocolate.
Level: Easy
Prep Time: 5 Minutes
Cook Time: 10 Minutes
Yields: 2 Servings
2 Bananas
1/4 Cup of Miniature Marshmallows
1/4 Cup of Semi-Sweet Chocolate Chips
Slit each banana lengthwise through the peel, making sure not to cut all the way through to the other side. Stuff the bananas with marshmallows and chocolate chips.

Wrap each banana in aluminum foil and cook over a fire, on the barbecue, or in a 300 degree oven for 5 minutes, or until chocolate is melted. Eat with a spoon.
Level: Moderate
Prep Time: 10 Minutes
Cook Time: 55 Minutes
Yields: 8 Servings
2 tablespoons olive oil
8 brat sausages, uncooked (or sub in any type of sausage you would like)
1 pound of baby potatoes
1 medium onion
1 clove garlic, finely chopped
1 package of sweet peppers, or 1 red and 1 yellow bell peppers chunked
5-6 fresh sage leaves, chopped
1 cup of beef stock
1/2 cup fresh chopped basil leaves (optional)
Salt and ground black pepper
Heat olive oil in Dutch Oven over medium high heat, then add sausages and brown.

Once sausages are browned, add in vegetables (peppers, onions, garlic and potatoes) including sage.

Cook until onions are cooked through.

Add in stock and let simmer til onions are glazed (about 5 minutes).

Reduce heat to low, cover, and simmer 45 minutes. Watch liquid level and add more as needed.

Remove from heat, add basil, salt, and pepper.

Cover with lid and let sit 5 minutes before serving.  Enjoy!
Ingredients: (per meal)
    1/3 to 1/2 lb hamburger

        use 85/15 hamburger, (you want the fat juices)

        crumbled works best – but lumps can also be used

    4 – 5 whole cabbage leaves

    1 cup diced "HashBrown potatoes, (like Orieda Frozen Hash Browns)

        Frozen hashbrowns do not have to be kept in your camp cooler

    1/2 cup each; frozen corn and peas

    1 whole carrot – sliced approx. 1/4″ thick

    Montreal Steak seasoning, Salt & pepper – generous, but to taste

    1 tbsp. butter or margarine
Note: Other vegetables can be added, (or substituted), ie. onions, sweet peppers, or green beans. Fresh is best, but frozen works fine. Tip: 1 tbsp. of Worcestershire sauce really boosts the meat flavor.
Directions
Start with a double layer of cabbage leaves, then the frozen and fresh veggies, followed with the hamburger, followed with the Montreal Steak Seasoning, salt & pepper, (seasoned to taste), and butter. Then complete the package by topping with more cabbage leaves.
Place completed foil pack on mature coals, (not in or over open flames, or still-flaming coals – the food will burn), for 25-30 minutes.
Also see Hobo Dinner Hamburger Foil Packets.
Supplies & Ingredients:
10-inch Dutch oven
12 briquettes on the lid
8 briquettes on the bottom
Baking time: 350° for 45 minutes
Apple mixture
3 pounds Granny Smith apples
2 tablespoons lemon juice
½ cup light brown sugar, packed
½ teaspoon ground cinnamon
½ teaspoon ground nutmeg
Topping
1 cup brown sugar
¾ cup flour
¾ cup oats
1 teaspoon cinnamon
½ cup butter
In a separate bowl, mix butter, sugar, and cinnamon until smooth. Add flour and then oats. Mix well.
Directions:
Peel, core, and slice the apples.
Toss in a bowl with lemon juice.
Add brown sugar, cinnamon, and
nutmeg.
In a separate bowl, prepare the topping as directed above.
Place apples in 10-inch Dutch oven
and add the topping.
Bake at 350° for 30 minutes; remove lid and bake another 15 minutes.
Ingredients
1 lb pork sausage – cooked and crumble

   AND/ OR

    1 lb bacon – cooked and crumbled

    AND/OR

    1 lb ham – diced

    1 bag frozen shredded hash browns

    12 eggs

    1 lb shredded cheddar cheese
Prepare meat as necessary. Grease the bottoms and sides of a deep camp Dutch oven. Spread hash browns in the bottom of the Dutch oven. Whisk eggs in a mixing bowl and pour evenly over hash browns. Sprinkle with meat and cheese.
Directions
Place about a dozen hot charcoal briquettes beneath the oven and about another eight on top.

Cook until the eggs are set, about 20 – 30 minutes.
Ingredients:
1 package Doritos, save 2 cups for casserole topping
2 tbsp onion, chopped
1 10 oz. can chili with beans
1 10 oz. can enchilada sauce
1 8 oz. can tomato sauce
1½ cups shredded sharp Cheddar cheese
Topping:
2 cups Doritos
½ cup shredded Cheddar cheese
1 cup sour cream
Directions:
1. Lightly oil or spray dutch oven. You can also line with tin foil and coat with non stick spray. Reserve 2 cups of
Doritos from bag for topping. Crumble remaining 6 cups Doritos into a large mixing bowl.
2. Add the onion, can of chili, enchilada sauce, tomato sauce and 1½ cups Cheddar.
3. Stir with a rubber spatula to combine; pour mixture into prepared dutch oven.
4. Bake at around 375 degrees for 20 minutes or until cheese has melted and mixture is bubbling. Remove lid from
dutch oven.
5. Spread sour cream over the top of the casserole with large spoon or spatula. Top with remaining 2 cups of
uncrushed Doritos; sprinkle with remaining ½ cup Cheddar cheese.
6. Cover with lid and bake for 5 minutes or until cheese has melted.
Ingredients
pre-cooked waffles

pre-cooked chicken

syrup
Chicken and waffles is a very simple idea. Warm 2 pre-cooked waffles on the grill, heat a precooked chicken patty. Once everything is heated up create a sandwich and serve with syrup.
Gather the following items:
2 42" lengths of PVC pipe 1" works best for smaller hands, 1 1/4 " will also work for larger hands.
some kind of soft cushions.  Sound panels (what is shown), old pillows, pool noodles, old t-shirts

Tape Duct tape, gaff tape or some wide wrapping tape
Wrap the cushion around each end of the PVC and secure it with tape.  Make sure the cushion is secure to the PVC by wrapping down the PVC from the cushion.
 Do this on each end of both of the PVC pipes.
For the challenge, we used an 8ft long 4x4 as our platform.  Competitors stood at each end and on go they tried to push each other off the board.
Rules:
No hitting in sensitive areas or in the face.
If a hand comes off of the stick you lose a point.
No baseball swings.
Points are awarded for pushing your competitor off the board.
The first one to three wins.
The game can be modified for younger kids. If an older sibling competes with the younger sibling, have the older one use one hand on the Pugil stick.
Silly Symphony Find natural materials like sticks rocks, leaves that can make noise. Two rocks together can hold a beat, grass can be used as a whistle. Assign a conductor, and that person waves their hands around to direct which person plays their instrument when. Record the results and send in.
Nominate one person to be the Captain. They will be the ones to give commands to the crew. The Captain will be limited by the orders listed below: Captains Coming: Crew must stand at attention and salute Run to Starport: Run to the right Run to Port: Run to the left Scrub the deck: crew army crawls across the ground Man the lifeboats: sit on the ground a row Raise the sail: 10 jumping jacks
Sit in a circle
Choose the person to be the frog
Choose the person to be the detective
The chosen poison frog kills off players one by one making eye contact and sticking their tongue out at the person. (dramatic deaths are more fun)
The detective tries to decide who the frog is
Identify finish line.
One person is the Caller and have their back to the players.
Everyone else is a player.
When Caller says green light, players run for the finish line.
When caller says red light, they have to stop
First player across the finish line wins and becomes Caller.
Identify a course length, and set up teams. If you have different sized individuals participating, have the smaller individual do jump squats next to their partner instead of going over the larger individual. When you say go, leap frog over one another to the end goal. First one to reach the end wins.
Identify a physical item nearby and everyone has to guess what it is using a series of questions.
One thrower; everyone else is a catcher.
Thower stands about 50 feet away from catcher
Catch the ball, you get one point.
First person to three points becomes the thrower.
One person lays their hands with palms facing up. The other player places their hands palms facing down. Bottom person tries to slap the top persons hands before they can remove them. If the bottom person is successful in slapping hands, they stay on the bottom. If they miss, the players switch hand positions.
Put on some dance music and call out an animal to dance like.   Have the parents be the judges.  Best animal dancer wins the round.
Optional animals to imitate: monkey, otter, frog, turtle, kangaroo, hawk, mountain lion, fox
Have you made your stargazing chair yet? Stargazing is something the entire family can enjoy! Here are a few tips and links to help you and your family explore the night sky (Ps. 19:1-6)
1. Understand the size of the earth and our neighboring planets. Take a trip to the nearest star, and explore beyond the limits of our galaxy in this awe-inspiring video.
2. Make your own star map to tour the night sky here
https://spaceplace.nasa.gov/starfinder/en/
3. Looking for a good Stargazing App? Here are a few we have used. Most are simple and allow you to see constellations clearly when you hold your phone to the sky:
Solar Walk - IOS and Andriod - Free with Ads
Star Chart - IOS and Android - Free
Star Walk 2 - IOS and Android - Free with Ads
4. Create model rockets and explore creative NASA resources with your kids:
5. Study rocketry and build a model rocket
6. Make a scale model of the solar system. Ask the question to your kids, "If the sun were three feet wide, how big would the earth be? How long would it take to walk there? How long would it take to walk to Pluto? Then create it! Make signs in your neighborhood and let your neighbors go on a trip through the solar system.
Sun - 3 Ft diameter
Mercury - 0.08" diameter - .02 miles from sun
Venus - 0.19" diameter - .04 miles from sun
Earth - 0.33" diameter - .06 miles from sun
Mars - .11" diameter - .08 miles from sun
Jupiter - 2.30" diameter - .49 miles from sun
Saturn - 1.94" diameter - .55 miles from sun
Uranus - 0.82" diameter - 1.12 miles from sun
Pluto - 0.06" diameter - 2.92 miles from sun
Neptune - 0.80" diameter - 2.93 miles from sun
**All distances from sun calculated at closets point of orbit so Pluto is closer than Neptune.
7. Read Psalm 19:1-6
"
The heavens declare the glory of God,
and the sky above[a] proclaims his handiwork.
2 Day to day pours out speech,
and night to night reveals knowledge.
3 There is no speech, nor are there words,
whose voice is not heard.
4 Their voice[b] goes out through all the earth,
and their words to the end of the world.
In them he has set a tent for the sun,
5

which comes out like a bridegroom leaving his chamber,
and, like a strong man, runs its course with joy.
6 Its rising is from the end of the heavens,
and its circuit to the end of them,
and there is nothing hidden from its heat.
Age Range: Woodlands Trail (5-9 years old)
From Hands On As We Grow: https://handsonaswegrow.com/nature-painting/
My little ones LOVE to paint and I am always looking for new and fun ways to enhance their painting experience. One main way that I accomplish this is to find alternatives to your every day, standard paint brush.
I love turning to the outdoors and incorporating natural items in our play whenever possible. Using the variety that nature has given us is an excellent way to create a fun painting experience.
There are so many different colors, textures and variety that nature offers. It's fun to enjoy the sensory experience of painting and creating art with objects that they see everyday!
I was really excited because I was able to turn this into a two part experience for my son, a nature walk and nature painting.
Step 1: Collect Your Items
At first we went on a nature walk and collected items. Then we did the actual painting process and sensory experience. You could easily make this part a texture scavenger hunt!
Step 2: Arrange Your "Brushes" 
I arranged his "natural paintbrushes" that he collected on a tray for him. This allowed for easier access for him.
Step 3: Gather Your Paint 
I put his paint tray beside him and a long piece of paper in front of him which allowed him room to explore and create.
Step 3: Create!
After a bit of encouragement, he explored all the other items on his tray and really enjoyed the different paint lines that they created.
It was fun to observe how he used each item in a different way. The pine cone and stick were used in a more forceful, splatter type way. The leaf sprigs were used more softly and were often dragged across the paper.
Trail Life Scavenger Hunt
Rock
Clover
Bird
Butterfly
Log
Ant
Tree
Grass
Pinecone
Flying insect
Rope
Feather
Sun Clouds
Tent
Stake Sticks
Green Leaf
Yellow Flower
Marshmallows
Graham Crackers
Chocolate
Animal Tracks
Camp Chair
Brown Leaf
Log
Water Bottle
Flint and Steel
Backpack
Bible
Telescope
Trail Life Hat
Camera
Trail Life Handbook
Trail Life Uniform
Pillow
Marshmallow
Stick
Hatchet
Water Bucket
Fire
Shovel
Pen
Deck/Balcony
Evergreen
Car/Vehicle
Bush
Puddle
Sand
Family pet
Coat/Sweatshirt
Shoes
First Aid Kit
tarp
pillow
hot dogs
birds nest
tree hollow
leaf bud
Stargazer Chair 
This surprisingly comfortable chair is known by many names. Viking Chair, Bog Chair and Stargazer chair just to name a few.  It's very easy to make with just a few hand tools and a single piece of lumber.
Remember to always be safe when using tools and to wear safety glasses.  Adult supervision is also important.
Materials:
1 eight foot 2X10

Paint or stain (stain is better.  Paint tends to get sticky and gummy
Tools:
Tape measure

Straightedge or square

Pencil

Drill with ¼" bit

Hand saw or sabre saw

Sandpaper
Print out the instructions and the template page
Cut boards to proper length
Measure, mark and cut the shorter length
Fold over and tape the template at the proper location on the longer board.  Use drill to make a hole in each corner. Insert saber saw an cut along template line to make chair back hole.
Insert base into hole.  Sand and adjust hole size if necessary.
Sand entire chair until smooth.  Use special care on wood edges to make smooth and splinter free.
Stain or paint as desired.  
After coating is dry, sit back and enjoy your new chair.
Stargazer Chair Process Instructions
Movie/Concert Preparation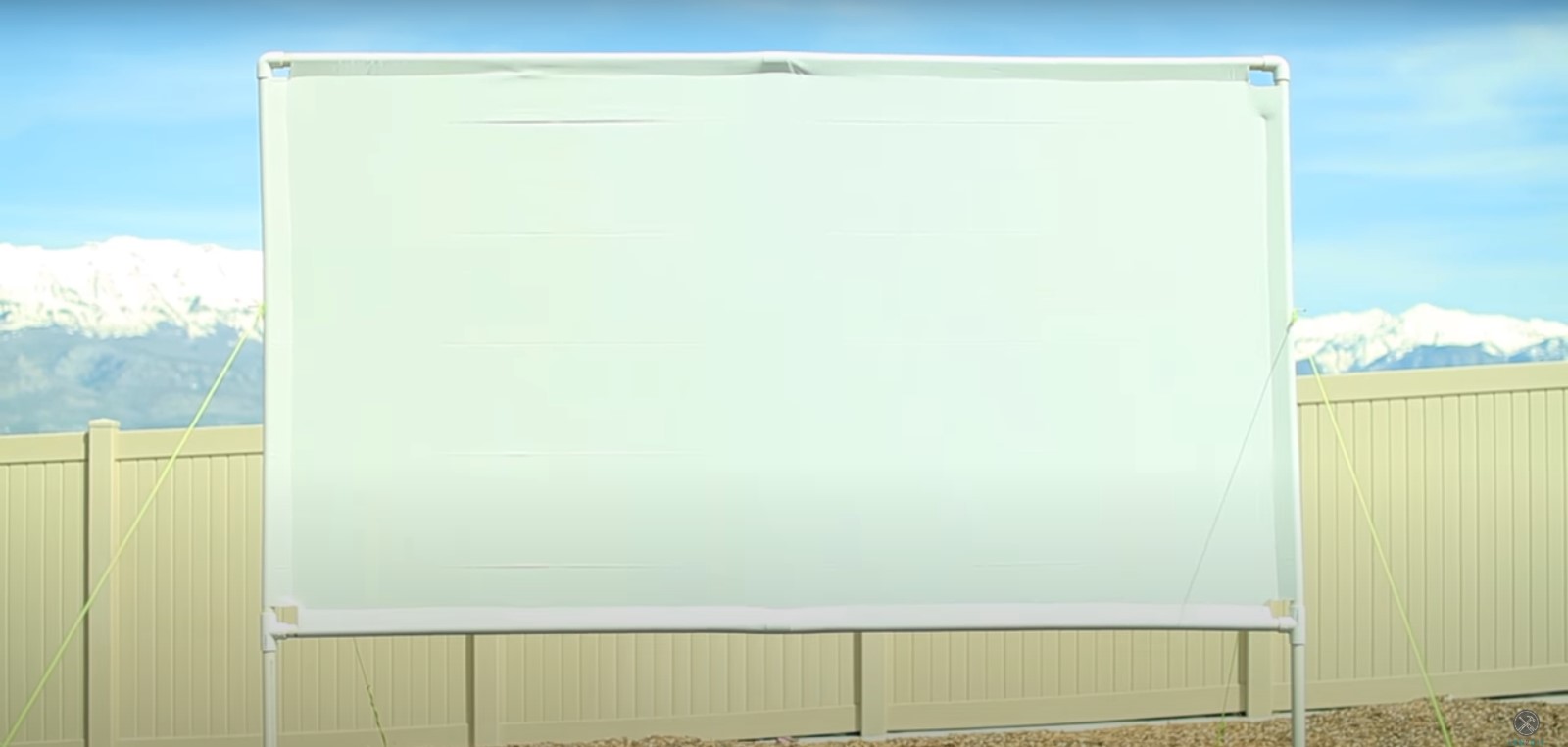 Snack Supply List:
Shield of Faith - Pringles
Helmet of Salvation - Bugles or Scoop style Tortillas
Belt of Truth - Licorice
Sword of the Spirit - Pretzels and Grapes in Half or Fruit Kabobs (Blueberries, Grapes, Strawberry)
Shoes of Peace - Mandarin Oranges (fresh or canned)
Breastplate of Righteousness - Green Pepper
Cross of Forgiveness - Rice Cereal Treats cut into Crosses
Book of Grace - Fig Newton Style Cookie decorated with icing
Star of Light - Pretzels with a Nut Butter or Cream Cheese
Journey Trail Mix - Popcorn, Pretzels, Graham Crackers, Goldfish, M&M's